Santander 4 – 7 SEPT 2024
<< Voice Moves
The World>>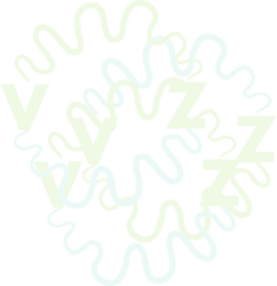 Venue and surrounding area
Congress Venue
Hotel Santemar
Hotel Santemar is a four-star hotel with excellent services. It is located two minutes' walk from the magnificent fine sand beaches of El Sardinero, and very close to the Magdalena peninsula and its Palace. The hotel is also a few minutes' walk from the main streets of the city through a brightly lit pedestrian tunnel just a few meters from the hotel. If you prefer, with a little more time, you can take the spectacular and unforgettable walk alongside the sea, until you reach the centre of the city. The hotel is very well connected by public transport, and there is also a taxi rank close by.
Joaquín Costa, 28
39005, Santander, Spain
tel: +34 942 27 29 00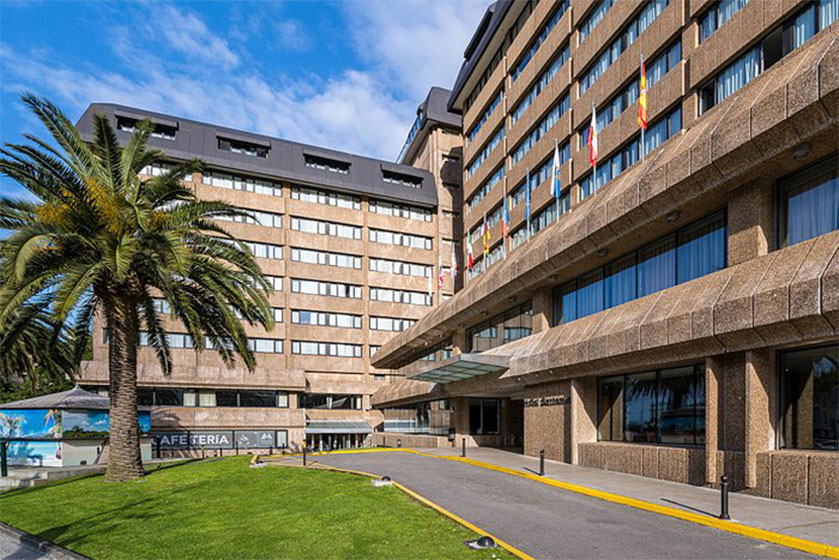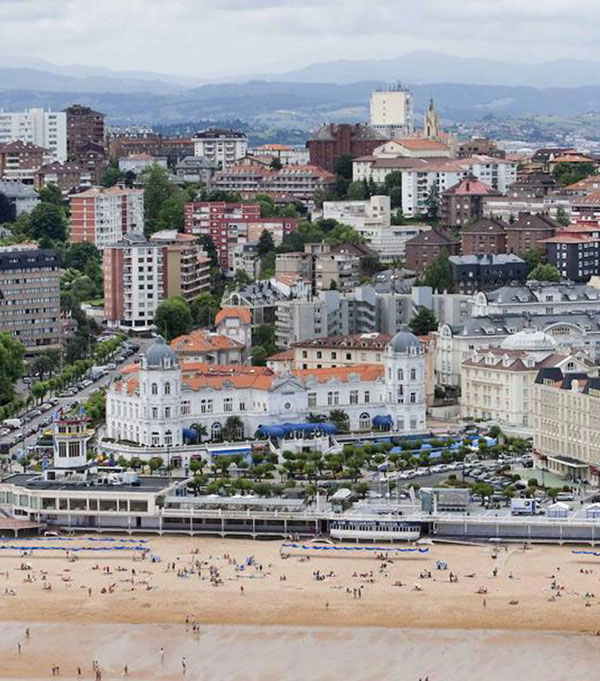 Surrounding area
El sardinero
It owes its name to the fact that in the past a fishing ground was in front of its beaches where sardine fishing was common. El Sardinero began to be known and highly visited from the mid-19th century with the "Bathing in Waves" of the people who came to seek the health benefits provided by the sea. The zone has two beaches that come together at low tide. A walk along the shore takes 30 minutes and is very pleasant. It is also possible to walk along the promenade that runs along the coast. The area is ideal for playing sports or simply enjoying spectacular views of the sea. On the beaches you can often see many people practicing surfing, windsurfing, or paddleboarding as well as the locally invented game "palas" (played with wooden rackets and a tennis ball – the game consists of hitting the ball to and fro without it touching the sand).
In the centre of the Sardinero area is the Gran Casino, which is a building with classic lines that combines the eclectic style and modernism, making it a clear example of the Belle Époque.
It was built in 1916 and is the most emblematic building in the area. It is a place of leisure and entertainment that offers games of chance, and restaurants.
A few metres away are the Piquío gardens, with views from the top of the beaches.
The Sardinero is a very popular area to have some "tapas", have dinner, or have a drink. The queues for ice cream will surprise you too!

By plane
You can fly directly to Santander Airport (Severiano Ballesteros).
You have direct connections from the European cities of:
Austria
VIENNA (FRI): Ryanair
Belgium
BRUSSELS / CHARLEROI (CRL): Ryanair
France
  PARIS/BEAUVAIS-TILLE (BVA): Ryanair
Italy
BOLOGNA (BLQ): Ryanair
MILAN/BERGAMO (BGY): Ryanair
ROME /FIUMICINO (FCO): Ryanair
TREVISO/S.ANGELO (TSF): Ryanair
Ireland
DUBLIN (DUB): Ryanair
Morocco
MARRAKESH (RAK): Ryanair
Romania
BUCHAREST (OTP): WIZZ AIR HUNGARY
United Kingdom
BIRMINGHAM / INTERNATIONAL (BHX): Ryanair
EDINBURGH (EDI): Ryanair
LONDON / STANSTED (STN): Ryanair
MANCHESTER (MAN): Ryanair
Also you have direct connections from the Spanish cities of:
Alicante-Elche (ALC): Ryanair
Barcelona-el Prat Josep Tarradellas (BCN): Ryanair, Vueling Airlines
Gran Canaria (LPA): Binter Canarias
Madrid-barajas Adolfo Suárez (MAD): Iberia, Air Nostrum
Malaga-Costa del Sol (AGP): Ryanair
Palma de Mallorca (PMI): Vueling Airlines
Seville (SVQ): Volotea
Tenerife north-c. the lagoon (TFN): Binter Canarias
Valencia (VLC): Ryanair
The airport is located just 5 km from the city. It has a special feature and that is that the runway is 20 m from the sea, so the landing is with "very unique views". The connection with the city center can be made by taxi (between €15-25), or by Cabify.
There are ALSA buses every 30 minutes. And it takes 15 minutes. It reaches the bus station and there is a distance to the congress venue of 4 km, which can be done by municipal bus or by taxi.
In addition, it has several companies dedicated to rental car: Alamo, Avis, Budget, Enterprise, Europcar, Goldcar, Hertz, National, Thrifty and Sixt. You can find more info at: https://www.aena.es/es/seve-ballesteros-santander.html
The congress has special discounts for air and rail travel: during the duration of the congress Iberia Airlines is offering 10% discount and the rail company RENFE is also offering 10%.
For train tickets from RENFE go to https://www.renfe.com/es
Select your station of origin and the destination where the congress is held. Next, select the travel dates, always within the congress period.
Select your chosen price available at the time of purchase (Basic, Middle, Premium)
Go to the Discounts dropdown, and select "Congresses/Fairs". Enter the authorization number (obtainable from the congress organization contact@pevoc2024.com ) and insert the name of the traveller.
Then continue with the usual purchase and payment process.
The person to whom this discount is granted must travel with the Authorization printed on paper with the Registration Number and Name of the Holder fields filled in with the correct data.

For flight tickets with IBERIA, once you have registered for the congress, use the code PEVOC15CONGRESS here: https://www.iberia.com/es/discount-code/
Remember to include the promotional code before finalizing the process and making the payment. If not, the discount cannot be applied.

By boat
It is also possible to reach Santander from Ireland and England by ferry. These boats are managed by the company Brittany Ferries.
There is connection with 3 ports: Cork, Portsmouth and Plymouth.
The Santander maritime station is in the heart of the city and there is a distance to the congress venue of 4 km.

By train
You can find connections from any Spanish station and also to some European cities. In some cases, commuting might be necessary.
The train station at Santander is in the centre and there is a distance to the congress venue of 4 km.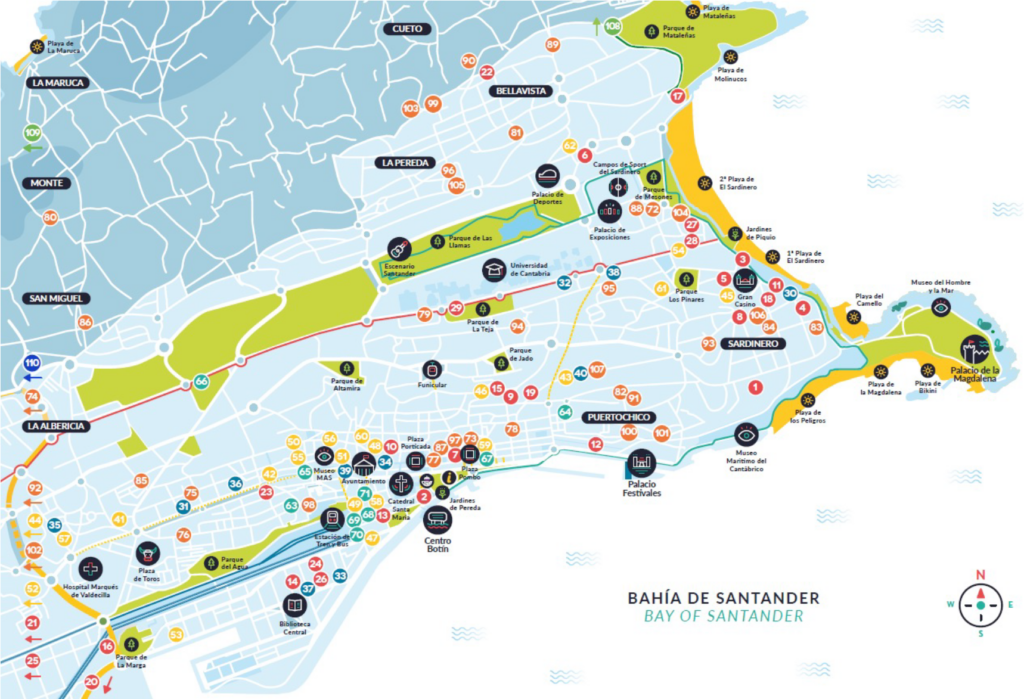 H****
Hotel Santemar
Joaquin Costa 28
Price: 150-175€
Distance: 0km
B&B
Plaza Pombo B&B
Hernan Cortés 25, 3º
Price: 100€ (per person in double bedroom) or 125€ (single)
Distance: 2km

BUS
It is possible to move around the city by public transport (buses). The congress has a very large discount for each of the attendees. At €0.66, half the price of an ordinary ticket, it can be used INDEFINITELY all day and it is possible to make any type of transfer on TUS buses. For this reason, thanks to the Santander City Council, we can take advantage of this possibility to move around very cheaply. To obtain your ticket ask the secretariat of the congress. Buses run from 7.00-24.00.
You can buy single tickets (€1,30) on the bus in cash or with a credit card. You pay the driver directly.


Taxi
It is also possible to use a taxi. In Santander it is advisable to call the switchboard for the taxi to pick you up: it is faster and more efficient and they work 24 hours a day. The telephone numbers are: Radio Taxi Santander 0034 942 333 333; and Tele Taxi Santander 0034 942 343 434 24
Taxis in Santander are not usually expensive.
In addition, you can call cheaper companies such as Cabify and Uber.

Official language
The official working language at the conference is English and no translation is offered.
Passport and visa
Spain is a part of the Schengen visa area. The entry formalities for the Kingdom of Spain vary according to the country of origin.
European Union (EU) nationals do not require a visa to enter Spain. They only require a travel document for entry, i.e., national ID card or passport.
Non-EU nationals are asked to address enquiries about entry and vaccination requirements to the travel agent or to their local Spanish Embassy / Consulate / Representation in the home country.
For more specific information, please contact the nearest Spain consulate or embassy, or check the Spanish Ministry of foreign Affairs website.
https://www.exteriores.gob.es/es/ServiciosAlCiudadano/Paginas/Servicios-consulares.aspx
Letter of Invitation
The conference organisation will be pleased to send a formal letter of invitation to delegates requesting an invitation letter for visa purposes. It is understood that such an invitation is intended to help potential delegates raise funds or to obtain a visa. This does not imply a commitment from the conference organisers to provide any financial support.
Liability and Insurance
Participants are requested to arrange their personal travel and health insurance. Neither the Organisers (PEVoC 15 2024) nor the Congress Secretariat will assume any responsibility whatsoever for damage or injury to persons or property during the conference.
Travellers requiring dialysis or any specific assistance should not hesitate to contact the Secretariat.
Emergency Services
In case of an accident or sudden illness, call for an ambulance or the police free-of-charge from any phone: 112. This is also possible without a SIM-card or cell service.
Pharmacies
Pharmacies are usually open from 9.00- 21.00. An all-night pharmacy – open between 22.00- 9.00 – is at C/ Los Alcornoques 5, El Alisal.
Climate and Temperature
The first week of September is still summer in Santander. The weather is normally very pleasant, but as September can be a wet month an umbrella may be useful just in case.
During the day, the average temperature is around 20°C- 22ºC. In the evening the temperature is around 15°C. We recommend you bring a warm jacket for chillier evenings. A waterproof jacket is a good choice should it rain.
The days in September are still long. The sun rises around 7:45 and sets around 20:45.
For more information, please see: https://www.aemet.es/es
Currency and money exchange
The currency in Spain is Euro (€). Most banks open from 9.00 to 14:00. Monday to Friday. ATMS are also available at weekends.
Credit cards are widely accepted – also in taxis. Shops and restaurants accept credit card or contactless payment by phone.
Shops
The shops are open from 09:00 or 10:00 to 19:00/19:30 hrs, Monday through Friday. Large stores are also open on Saturdays from 10:00-22:00.
Tips
Tips are always included in the prices given in taxis and restaurants in Spain. Tipping is not expected but appreciated.
Smoking ban
Smoking is banned in all indoor public places and restaurants in Spain. The conference is a no-smoking event and smoking is not permitted at the venue.
Electricity supply
Electricity is supplied at 220 volts A/C, 50 Hz cycle. Sockets are of the two round pin type, C-Type or euro-plug.
INTERNET
You can see a map of free WI-Fi hotspots.
Click here https://www.wifimap.io/1016-santander-free-wifi/map